Since 2007, the Germany-based company SmartHouse GmbH is dealing with house building. Following the example of the American concept of "Mobile Houses", SmartHouse has developed an innovative house concept that is becoming increasingly popular in Germany. The special feature of this concept is its structure: Every single SmartHouse module is produced and built in one piece in the proprietary production hall.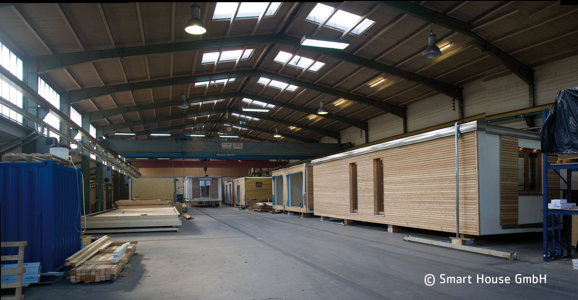 Based on an innovative constructive form, each SmartHouse is built modularly and as a completely finished product. Unlike owners of conventional prefabricated houses in Germany, SmartHouse-owners receive not only prefabricated walls that are assembled on site, but an entire house – the turnkey-ready version is delivered complete with painting, floor coverings and a fully equipped bathroom. Once the modules are finished, they are moved to the site with a special transporter. There, all the modules are laid out on the existing point or strip foundation via crane and are connected to become a whole unit. After placement and installation, home builders can move in just a few hours later.
The modular design allows not only living and working in a small space, but by combining several modules you can create exceptional living areas. This results in exceptional single-family homes that are not only attractive but also include amenities such as spacious roof terraces. The standard flat roof offers the possibility of a green roof or for installing a solar or photovoltaic system. Different roof shapes are also possible.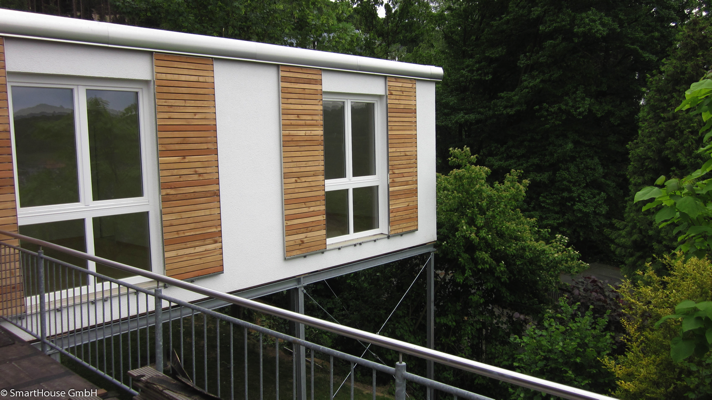 This building concept offers many advantages: Home builders can receive their new homes all year round. There are no more conventional construction sites. Because of the incredibly short building time the production process is fully predictable. In addition, SmartHouses are the perfect solution for an extension to an already existing house. Due to the modular flexibility, further extensions and add-ons to already existing buildings are a breeze.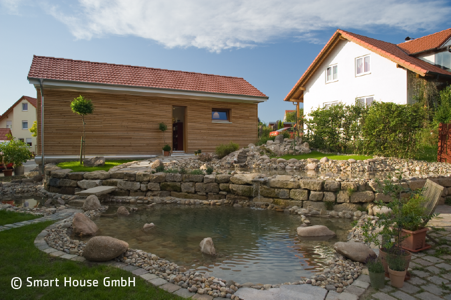 Another highlight: The SmartHouse modules can move with their owner when needed. As quick and simple it is to set up a building, as fast are they relocated. In this way, SmartHouse meets up to the American principle of "modern nomads", because everyone may need to move nowadays. In such a case, SmartHouse offers a new kind of flexibility as your house simply moves with you.
With all the flexibility, SmartHouse offers high efficiency, too: Each module complies with the applicable requirements of the current German energy savings regulations of 2014. With the exclusive use of natural materials such as wood SmartHouse provides a healthy living and indoor climate with excellent insulating properties.
For more information about SmartHouse visit the website www.mobile-smarthouse.com (only available in German).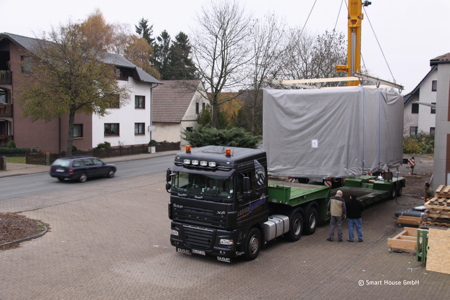 SmartHouse delivers throughout Germany, Switzerland and the Benelux countries. Other international deliveries will be made upon request.